Creative Design And Branding
To Grow Your Business
Graphic Design
+

Web Design

+

Identity

+

Branding

+

Print

+

Advertising

Imagine
At Purney Design, our goal is to make your brand irresistible. We start by getting to know you and your objectives. Then we add our strategic thinking and years of design experience to transport your vision from imagination to reality.

Inspire
Irresistible brands inspire. By being courageous, optimistic, and fun, they create and nurture strong relationships with customers. Your brand is the theme of your company's life story. Our focus is to make it irresistible and inspiring.

Create
We create materials that are smart, strategic, and compelling across all communication media. Whatever you require — branding, a new logo, web overhaul, advertising, packaging, or signage — count on us to make it happen.
"Our business is to make your brand strong."
— Suzin Purney Osborne, Creative Director
Your mobile branding
is essential.
So we make sure it's right.
We create responsive web sites that look terrific on all desktops, tablets, and phones. Your brand is your public face, the first thing people see. Our mission is to make sure it always makes the best impression.
"Before Suzin worked on my branding I had clients who were confused about the connection between my two businesses (Beth Berardi and Ivy West Insurance). With Suzin's help and excellent design work, I now have a brand that people understand. Suzin designed a beautiful new website along with logos, business cards, and letterheads. Now my customers understand the synergies that my two businesses offer them. The work is unique, modern, and professional looking. I'm proud to share the results with clients and they love it, too. I get positive feedback all the time. Suzin is easy to work with and takes the extra care to make sure everything is just right."
— Beth Berardi, President and owner of Ivy West Insurance
"I am so happy with my branding experience with Purney Design. Suzin's experience and creativity is just what Slate Bookkeeping needed. She really understood my vision for my business and worked closely with me every step of the way. I am very proud of the branding, logo, business cards, social media, website, and blog that we created together. Now all of my branding is visually consistent and strong in it's messaging. It helps me differentiate my company from the competition with our unique services and our certified expertise. I will continue to use Purney Design for all my future creative needs."
— Michelle Polster, Founder, Slate Bookkeeping
"It was a joy working on my website and marketing materials from start to finish with Purney Design. Learning and sharing in the process was great. The outcome was very professional. I'm glad to have Suzin's talent and expertise on the project."
— Candace Bruce, President & Founder of Health Options Wellness
"My company used Purney Design to design and develop a new website and logo for my carpet cleaning business. They did an outstanding job at creating a very nice new image for my business. The website is well thought out and designed to get the new client to pick up the phone and call. They are true professionals who understand marketing strategies as well as search engine optimization and all technical aspects of today's high tech web design. I highly recommend Purney Design and will use them in the future for all of my marketing needs."
— Jim Williams, Owner, Precision Steam Cleaning
"Purney Design created the professional image for my business that I was hoping for. The branding is strong and consistent from my logo to business cards, letterhead, and brochure to the website. The ultimate product looks great and I've received many client compliments."
— Zack Springer, Owner and Planner at Reunite Financial, LLC.
"Suzin created a logo and business cards for me, and she did a great job! Her commitment to excellence and attention to detail are impressive. When I need graphic design services in the future, I will check with Suzin first."
— Denise Frizzell, Phd, Metamorphosis Consultation & Coaching
"Suzin created a logo and brochure for our organization that captured and crystalized our story. I had no idea how working with a professional of this caliber would impart confidence to our team and contribute to our visibility in the community. I am very grateful for her talents and recommend her highly."
— Catherine Meerbergen, Programs director, Women Starting Over After 50
"We know we can always count on Suzin at Purney Design to pull through for us with excellent design work for our advertising, even when we have tight deadlines."
— Len Schnabel, Principal, DesignLight
"It's not every business logo that draws compliments from clients. But mine does. Both decorative and professional at the same time, it conveys without words exactly what my business is all about: I'm a food-first nutritionist, meaning I recommend fruits and vegetables over pills whenever possible.
In addition to my logo, Suzin designed a stunning brochure for me, not only choosing the typefaces and doing the layout, but actually taking the pictures needed to make it smashing. In a healthcare center full of other practitioners' flyers, my brochure stands out as beautiful, informative, and smart looking.
Whether you're doing business cards, brochures, a website or an advertising campaign, Purney Design offers comprehensive services that result in a product that is distinctly unique and of superior quality."
— Susan Wyler, MPH, RDN, LDN, owner of Wyler Nutritional Wellness
"What I like most about Suzin's design work is its minimalist quality. It's this clean and unobstructed approach to advertising communications that makes her clients' messaging come through loud and clear. Each of Suzin's designs grows directly from her client's brand and personality, not from whatever happens to be the latest design trend. Oh yeah, and she's also a delight to worth with."
— Dan Brown, Advertising Creative director/Concept developer/Marketing Strategist
"I've worked with Suzin Purney Osborne on a number of projects over the years. Besides being a talented designer, she is a keen-minded communications professional who quickly grasps her clients' needs and is able to develop fresh and strategic creative solutions tailored to meet those needs."
— Gene Gilmore, Copywriter
Creative people
who listen.
Yes, it's true.
At the beginning of a project, expect us to listen. A lot. And once we understand your business, customers, and project objectives, we'll map out a plan that ensures we're all on the same page regarding strategy, timelines, creative delivery, and costs.
Logo Design + Branding + Identity
Logos are a critical element of your branding and identity. For this reason, we create logos that communicate a clear message as well as shine. What's more, our expert copywriters can marry your visual personality with compelling tag lines and stories to articulate the uniqueness of your brand and identity.
Web Design + Mobile + SEO
Using the HTML or WordPress theme-based design that works best for you, we create websites that are not only unique, they're mobile friendly, too. The process includes best practices design, coding, and SEO. We also help with content management, blogs, e-commerce, e-newsletters, and hosting.
Social Media
We get your brand image designed, uploaded, and started for all forms of social media. So people will recognize your business on Twitter, Facebook, Pinterest, Instagram, LinkedIn, YouTube, and others.
Signage + Environmental
We can design and produce identity and branding materials for your office, storefront, or vehicles. This includes: interior and exterior signage + trade show design + point-of-purchase displays.
Product Packaging
Product packaging can heavily influence a customer's decision to buy, or not to buy. Everything we design for you — from labels to boxes — is influenced by your brand, the nature of your product, and your competitive environment.
Integrated Campaigns
Our creative work is integrated across all of your company's external and internal communications. Print is still alive and well and shouldn't be overlooked. This includes brochures + pocket folders + catalogs + direct marketing + advertising campaigns + sales + promotional materials.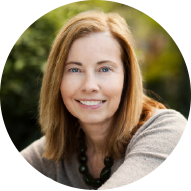 Suzin Purney Osborne
Founder, Creative Director and Designer
Suzin is an award-winning designer living in Chapel Hill, NC. Before moving to Chapel Hill, she worked as an art director and graphic designer at advertising agencies in Boston, MA. For more than 20 years, Suzin has had the privilege to partner with many great companies. Her broad range of experience encompasses regional, national, and international accounts, including non-profits. Suzin takes pride in creating materials that are smart and compelling. And she brings the same high level of talent and enthusiasm to all her projects — branding, logos, web overhauls, advertising, packaging, and signage. Her clients depend on her for digital and print solutions that are innovative, creative, and strategic. She earns that trust every day not simply because of her creative work, but for being honest, dependable, and professional as well. Over the years, Suzin's creative design capabilities have helped brands get the attention they deserve.